Our Research
Cancer is a leading cause of death globally, and a very significant fraction of the population will develop cancer during their lifetime. Here at the Quantitative Radiomolecular Imaging and Therapy (Qurit) lab & program (pronounced Cure-It!), we aim to improve diagnosis and prognosis, and offer new radiotherapy alternatives that help save lives. We do this by quantifying how radiomolecules (radiopharmaceuticals), combinations of drugs and radioactive isotopes, precisely target cancer cells, in both imaging and therapy applications.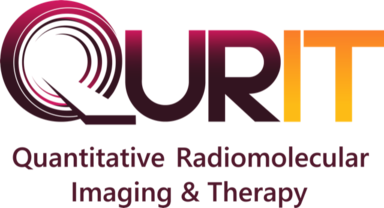 Our Team
We're a multicultural team of scientists, researchers and programmers from disciplines such as physics, engineering and computer science. We are located at the BC Cancer Research Institute, a PHSA and University of British Columbia (UBC) research institute, in close connection with the clinical environment and having collaborations with researchers from other disciplines.
Joining Us
If you're interested in applications of physics, engineering, math and/or computer science to help cure cancer, and to familiarize yourself with techniques such as artificial intelligence and digital twins, we invite you to talk to us. We actively recruit students, postdocs, volunteers, interns, and visiting students from around the world. If you are proactive and like to stay updated with the exciting pace of developments and applications in molecular imaging and therapy, AI, and digital twins, you may be a great fit for our team and we for you; see our OPEN POSITIONS
Our Collaborators
We have collaborations with the industry, and some of our close partners include General Electric, Siemens, Microsoft and MIM. This gives our team members the opportunity to also gain skills that are valuable for translation of our methods to routine clinical practice.
Blog
Seventh post in a series of posts written by members of the Qurit Team. Written by Asim Shrestha.
Introducing RT-UTILS
Back to top
BC Cancer Foundation is the fundraising partner of BC Cancer, which includes BC Cancer Research. Together with our donors, we are changing cancer outcomes for British Columbians by funding innovative research and personalized treatment and care.