What is the BC Cancer Immunotherapy Program?
The vision of the BC Cancer Immunotherapy Program is to create and clinically translate the next generation of cancer immunotherapies. Our goal is to develop safe, potent and cost-effective immunotherapies that can be deployed against a broad range of cancers. 
What is Immunotherapy?
Cancer immunotherapy is based on the concept of stimulating the patient's own immune system to recognize and destroy tumour cells. The main foot soldiers in the battle between the immune system and cancer are T cells: small, powerful white blood cells with an extraordinary ability to selectively kill cancer cells, within minutes of contact. Immunotherapies are yielding remarkable outcomes for cancer patients, making this one of the most exciting and active areas of oncology today. 
Our program is focused on a type of immunotherapy called Adoptive Cell Therapy (ACT).  With ACT, patients are directly infused with their own T cells which have been conditioned or engineered to recognize and attack their cancer. The most successful form of ACT to date uses T cells that have been genetically engineered to recognize certain types of leukemia and lymphoma, an approach known as Chimeric Antigen Receptor (CAR) T cell therapy. The phenomenal breakthroughs of ACT against leukemia, lymphoma and melanoma are fuelling intense interest in expanding this approach to other cancer types. Building on these successes, our team of internationally recognized Canadian researchers is creating an innovative portfolio of strategies that will take ACT to new heights, creating unprecedented treatment options for cancer patients.  
Who are we?
BC Cancer's Immunotherapy Program brings together researchers with complementary expertise in immunology, genomics, proteomics, genetic engineering, and clinical trials to pioneer innovative new approaches to immunotherapy. Our team is driven to perform innovative and collaborative science, to attract top trainees from around the world, and to engage our patients and community in a common vision. In addition, our team collaborates with an extensive network of cancer researchers across the national and global immunotherapy community.  
Our Facilities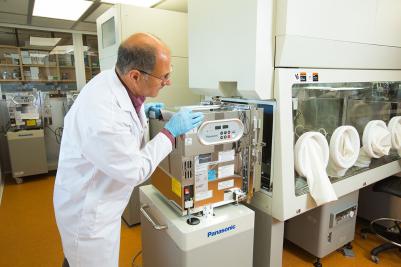 With a multi-million dollar investment from the BC Cancer Foundation, Canada Foundation for Innovation (CFI), and BC Knowledge Development Fund, we have built the critical infrastructure and assembled a team of highly specialized staff to produce high quality T cell products for clinical use. With our state-of-the-art facilities, we are using genomic and proteomic strategies to discover new molecular targets (antigens) for ACT and to design creative strategies and tools for T cell engineering. The Conconi Family Immunotherapy Lab (CFIL) is a cutting-edge cell processing facility that allows us to produce innovative, cost-effective cell therapies for clinical trials research. We also have sophisticated instruments and skilled personnel to precisely monitor immune responses in patients, giving us critical information to continually improve the effectiveness and safety of our approaches. 
Our Clinical Trials
CLIC-01 is a clinical trial designed to test anti-CD19 CAR-T cells for the treatment of B-cell Acute Lymphoblastic Leukemia and Non-Hodgkin's Lymphoma in Vancouver and Ottawa (ClinicalTrials.gov Identifier: NCT03765177).
If you would like more information about a clinical trial you might be eligible for, please discuss this with your Oncologist.
Collaborative Services
Our group has developed tools and techniques that can be offered as collaborative services including Clinical Plasmid Manufacture, rapid Mycoplasma testing for cell therapies and a host of molecular, genomic and histological methods through our Molecular and Cellular Immunology Core. For general enquiries please contact our Project Manager, Dr Mhairi Sigrist (msigrist@bccrc.ca).
Program Leaders:
Dr. Brad Nelson (Scientific Co-Director)
Dr. Robert Holt (Scientific Co-Director)
Dr. Kevin Hay (Medical Director)
Clinician Scientists:
Dr. Kevin Song
Dr. Sujaatha Narayanan
Researchers:
Dr. Julie Nielsen
Dr. Laura Evgin
Dr. Julian Lum
Dr. Eric Yung
Dr. Dan Waller
Quality Systems and Regulatory Affairs:
Ms Miruna Bala
Project and Facility Management:
Dr. Mhairi Sigrist
Dr. David Bond