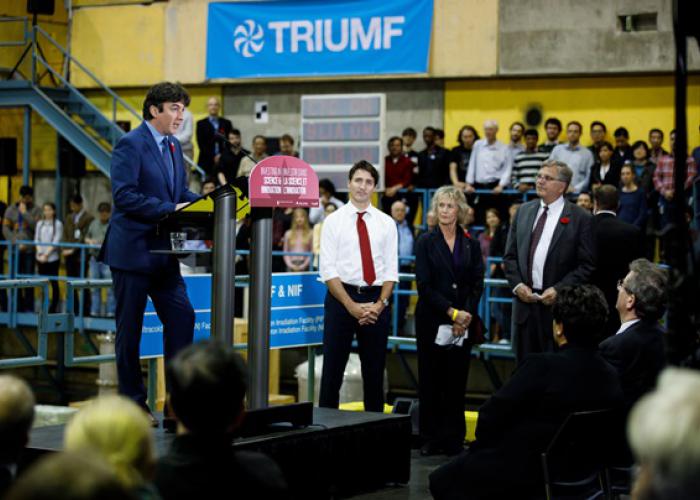 Prime Minister Justin Trudeau announced federal funding for the construction of the new Institute for Advanced Medical Isotopes (IAMI) on November 1. The IAMI will be Canada's first nuclear medicine hub and will house BC Cancer and other industry partners to advance medical isotope production, drug development, cancer therapy, clinical imaging and radiopharmaceutical research. These advancements have the potential to help thousands of Canadians.
IAMI will be part of TRIUMF at the University of British Columbia campus. TRIUMF is one of the world's leading subatomic physics laboratories and Canada's national particle accelerator centre.
"With the new IAMI facility and BC Cancer's partnership with TRIUMF, we will have the most innovative infrastructure and minds working to develop advanced, highly targeted cancer therapeutics," said Dr. Francois Bénard, vice president, Research, BC Cancer. 
"Thanks to the vision and investments from the governments of Canada and British Columbia and a generous anonymous donation to BC Cancer Foundation, IAMI will bring hope and improve outcomes for people facing cancer across our nation."
That historic donation, one of the largest made to cancer care and research in Canadian history, supports the IAMI facility and the BC Cancer lab that it will house. 
Over the next five years, BC Cancer will scale up scientific development of radioactive isotope treatments and launch a series of clinical trials. The first patient trials are well within reach in the year ahead.    
Read more about the IAMI.