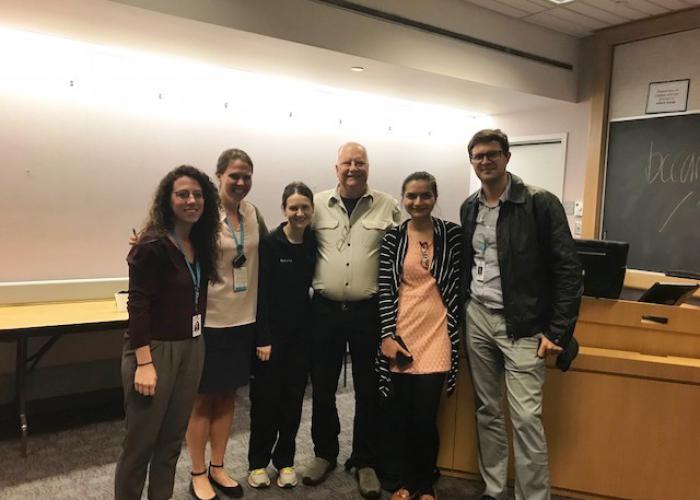 From left to right: Nicole Dyregrov, Jen Rosychuk, Emma Hoag, John Newman (patient partner), Naureen Mukhi and Nikita Ivanov.
On behalf of the Research Challenge Advisory Council, funding for five teams has been announced. Award recipients will conduct small-scale research projects that have potential to positively impact clinical practice and improve patient care.
Congratulations to the funded teams and thanks to their mentors!
| | | | |
| --- | --- | --- | --- |
| ​Team | ​Mentor | ​Unit  | ​Title |
| ​Nikita Ivanov, Naureen Mukhi, Emma Hoag, Nicole Dyregrov, Jen Rosychuk | ​Dr. Antony Porcino (Supportive Cancer Care) & Dr. Sally Thorne (UBC) | ​Systemic Therapy (Vancouver) | ​Nurse-Patient Interactions in the Genitourinary (GU) Oncology Ambulatory Clinic Setting |
| ​Dustin Mackay, Heather George, Ava Hatcher, Grace Cole | ​Dr. Shannon Freeman (UNBC) | ​Staff Nurse (Prince George)  | ​Examining the experience of persons undergoing cancer treatment who observe other patients ring the milestone bell |
| ​Jenny Chang, Krisdeep Lally, Jacquie Wong | ​Dr. Fred Hsu (Medical Oncology) | ​Radiation Therapy (Abbotsford)  | ​Standardizing bladder filling protocol and patient education material at BC Cancer |
| ​Ellie Heo, Cecilia Kim | Dr. Nafisha Lalani (Radiation Oncology) | ​Radiation Therapy (Abbotsford & Surrey) | ​Pregnancy Associated Breast Cancer (PABC) in British Columbia: Patterns of Care and Outcomes |
| ​Caroline Pollock, Amber Brown-Dahl | ​Cheri Van Patten, RD (Oncology Nutrition) | ​Oncology Nutrition (Vancouver)  | ​Evaluating patient practices of home-based cleaning techniques of enteral feeding equipment |
The Practice-based Research Challenge bridges the gap between clinical practice and research by empowering point-of-care interprofessional clinical teams to identify challenging clinical issues and find evidence-based answers through research. This initiative offers 'newbies' to research the opportunity to learn basic research skills and work with a mentor to develop a research proposal around a research question developed in the practice setting.
"I have always found research an interesting but overall daunting field to dive into, but I thought the smaller scale Research Challenge would be a great way to start!" says Caroline Pollock.
The Research Challenge also offers an opportunity for professional development.
"I'm hoping this will help further my studies and help me along my journey to graduate studies to become a nurse practitioner," shares Dustin Mackay, whose team hopes to help change how the ringing of the end of treatment bell is viewed by all clients.
Point-of-care clinicians are in a key position to promote quality patient-centred care through research.
"Each health professional will tend to notice different problems as they see each patient with a different lens. Research projects like this will allow us to find out why these common problems keep happening and what we can do at BC Cancer to help support these patients", says Caroline. "We are also highly motivated to see the impact of our research for patients and for other point-of-care staff," adds Nikita Ivanov's team who expect to enhance the experience of Genitourinary oncology patients by improving how nurses conduct nursing assessments.
The Research Challenge requires a big commitment as participants attend the training sessions and work on their research projects during their own personal time:
"Although the workshops and our mentors provided a great deal of guidance throughout this process, it also required a lot of self-study and communication between team members to be able to pull together all the pieces required within the research proposal," comments Nikita's team. "Team coordination has been the biggest learning curve so far. Coordinating members to attend the workshops, work together on the project outside of work hours and dividing up the workload," says Dustin.
The Research Challenge improves connection between clinicians and experienced researchers. BC Cancer leaders, researchers from the BC Cancer Research Centre and universities, and representatives of partner organizations come together to support the teams and the Research Challenge as instructors, mentors, peer reviewers and/or Research Advisory Council members. The Challenge is organized by the Research, Innovation and Education Department in the Patient Experience and Interprofessional Practice Portfolio.
2019 Training Workshops 
​Topic
​Instructor
​Literature Review
​Cathy Rayment, Provincial Library Leader
​Research Methods
​Fuchsia Howard, professor, & Melissa Moynihan, PhD candidate, UBC School of Nursing

Scott Beck, oncology nurse

Larry Mróz & Lynne Feehand, BC Support Unit

​Ethics 
​Kristie Westerlaken, Manager, BC Cancer Research Ethics Board
​Developing Budgets for Research Proposals
​Debbie Mok, Finance Manager, & Jillian Mckenna, Grants Officer, Office of Research Administration