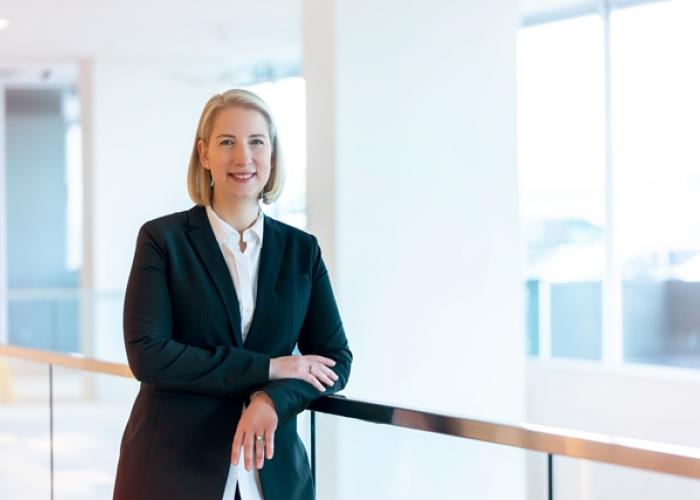 Leah Lambert knows cancer care doesn't always follow a straight line. The registered nurse with a PhD in nursing is focused on improving the patient journey and is working to erase barriers as breast cancer patients transition through their cancer care from diagnosis through to follow-up care with their primary physicians. Working as part of an interdisciplinary team on research and health systems, she has helped outline improvements in care which has led to better patient outcomes and system performance. Her studies aim to determine how to effectively provide quality and efficient health services and illustrates how exceptional person-centred care is possible throughout the cancer journey.
In 2019, Leah completed her PhD and began her postdoctoral fellowship with BC Cancer, highlighting the important work nurses provide in recognizing and responding to individual needs and circumstances; an example of BC Cancer's commitment to person-centred care.
With the next chapter still left to be written, Leah Lambert pencils down her predictions for the future of research.
What are your thoughts on the future of cancer care?
So many opportunities exist for nursing to make meaningful contributions in shaping cancer care from a health systems and policy perspective. To prepare for the challenges ahead, it is critical that we work collaboratively. Nurses have always played an important role in improving both experiential and illness outcomes for people affected by cancer. Evidence indicates that patient safety throughout the cancer care system is significantly improved by the frequency with which patients have a positive connection with nurses. Nurses are attuned to patient wellbeing and can proactively intervene with information, support and assistance navigating health systems before concerns cause patient distress.
Where have you seen the most significant progress in cancer research since the beginning of your career?
BC Cancer has been at the forefront of innovative research that has led to major advances not just in cancer treatment but across the full spectrum of a cancer journey. From genomic discoveries to improving end-of-life care, it is hard to single out just one area of significant progress. Even the smallest new learning can lead to exponential advancements; it's what we do with these learnings within our cancer system that will be critical to improving care and enacting change.
What do you think is the most pressing problem facing cancer research now?
One of the most pressing challenges for cancer research is translating research discoveries into clinical practice. The transition from bench to bedside is critical to ensuring research advancements are directly relevant to the patients we work hard to support. Patients are at the heart of everything we do and we cannot lose sight of who is on the receiving end of these advancements in cancer research.
From a health systems perspective, optimizing health services and delivery of care using a multidisciplinary approach that is responsive to patient needs is critically important. Increasingly complex and personalized treatments pose a challenge in understanding what the long term effects are for survivors. I believe this will continue to be a significant focus of future research efforts.
What advice would you offer to young scientists?
Choose to engage in work that you are passionate about and is personally meaningful to you. Maintain a spirit of curiosity that will carry you through the inevitable challenges of conducting research within complex healthcare and academic environments. Establish relationships not only with those in your field, but also with people outside your inner circle. The future success of our healthcare system will depend on the strength of multidisciplinary teams and breaking down the historic silos.