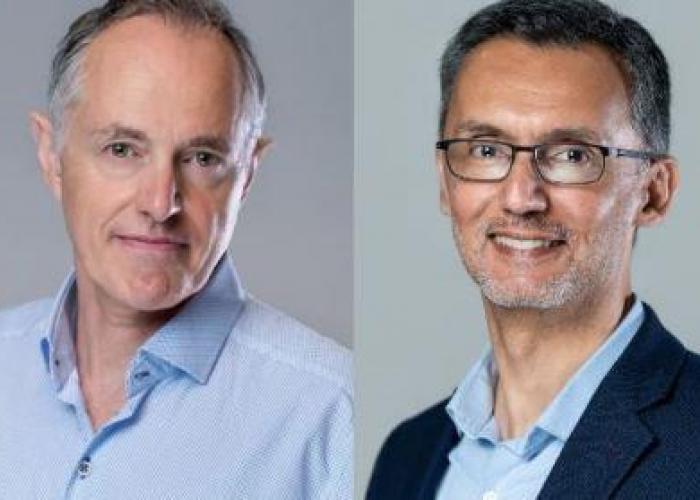 Of the eight Life Sciences BC awards being given at a digital awards ceremony taking place today, two will go home with BC Cancer Research Institute distinguished scientists. The annual awards recognize talented individuals and organizations that represent the life sciences ecosystem in B.C. which includes academia, health institutions, research & development, SMEs, government, and industry.
Dr. Poul Sorensen will be receiving the Michael Smith Foundation for Health Research - Aubrey J. Tingle Prize and Dr. Aly Karsan will be receiving the Genome BC Award for Scientific Excellence.  
"It is truly humbling when you know your work can influence clinical care. However, it also makes you want to do more, and often feels like you can't ever do enough," says Dr. Sorensen. "Winning this award tells me that my team is on the right track, and moves us to do more."
Dr. Sorensen's work with pediatric cancers garners him with the Aubrey J. Tingle prize which is awarded annually to a British Columbia clinician scientist whose work in health research is internationally recognized and has had a significant impact on advancing research in their field. His discoveries have been translated into new diagnostic tests for specific tumours, and have advanced our understanding of how the involved proteins transmit signals that cause cells to become cancerous. 

Dr. Karsan's Genome BC Award for Scientific Excellence stems from his leadership in delivering clinical genomic assays. He established the first clinically-accredited Next Generation Sequencing lab in Canada, the Centre for Clinical Genomics (CCG), which was among the first few in the world. This pioneering work in using next generation sequencing (NGS) technologies for clinical delivery has led to the development of various novel technologies for clinical genomic testing including a unique genetic barcoding system to track patient samples, development and implementation of clinical reporting software for NGS, development of a transcriptomic (RNA sequencing) test for leukemia and clinical validation of a non-invasive prenatal test (NIPT) by whole genome sequencing in partnership with the Prenatal Screening Program of BC.
"It's an honour and really nice to be recognized but I think in the end, the trainees who drive this, the people in the lab, and not just the trainees there's other technologists and scientists who work together and really drive all of this forward," says Dr. Karsan. "I see [this award] as a recognition for a team of people who have done some incredible work."
Watch their video acceptance speeches: 
Dr. Sorensen
Dr. Karsan


To learn more about the awards, visit lifesciencesbc.ca.