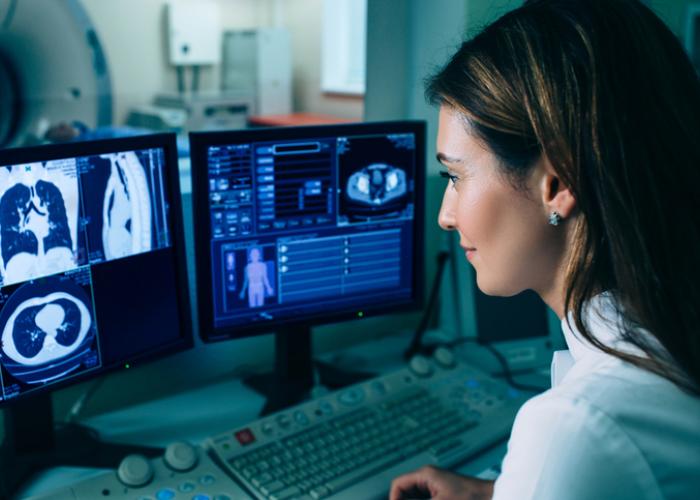 Reading cancer imaging tests may become more straightforward and informative for BC Cancer radiologists thanks to a new research partnership between BC Cancer and Microsoft's AI for Health program. In this partnership, a group of data and computer scientists at Microsoft will be working alongside Dr. Arman Rahmim, senior scientist at the BC Cancer Research Institute (BCCRI), and Dr. Ivan Klyuzhin, research programmer at BCCRI. Together the team will be developing AI algorithms to assist radiologists and cancer researchers in detection and assessment of tumours in PET/CT images.
"The process of image analysis in clinical practice, not just in B.C. but worldwide, is primarily qualitative," says Dr. Rahmim, principal investigator on the project at the BCCRI. "A specialist must view the image and make an assessment of disease from what they see. Our intention is to develop new technologies using AI that can help better identify and evaluate tumours, with the ultimate aim of impacting care and outcomes for our patients. With the help of AI, we hope to generate more quantitative image metrics for evaluating cancer burden and aggressiveness which could then be used to, for instance, identify those at higher risk for early relapse, and to develop more effective, personalized cancer treatment plans."
The current focus of the partnership is on creating algorithms which can automatically detect and delineate prostate cancer tumours in PET/CT images, although these efforts are expected to expand to lymphoma and other cancer variants. The partnership also has the potential to contribute to enhanced AI-assisted cancer screening program in BC and worldwide through quick identification of negative scans, and to delivery of more precise chemotherapy, radiotherapy and radiopharmaceutical therapy.
"Some of the greatest scientific advances have come from interdisciplinary collaborations," says Dr. Klyuzhin. "Our partnership with Microsoft's AI for Health program comes from a lot of hard work to bridge different fields – oncology, radiology, physics and computer science. It is through a combination of knowledge and expertise that we have the potential to create the most innovative technology that could meaningfully improve outcomes for people affected by cancer."
"By using Microsoft Azure to open data that will further accelerate innovation and collaboration, AI can transform the way we tackle some of the world's most serious health problems," says John Kahan, VP, Chief Data Analytics Officer, Microsoft. "This partnership with BC Cancer will expedite diagnoses, potentially leading to better, more targeted treatment and support for cancer patients. We are proud to support this partnership."
The group plans to publish their research and openly share the developed AI models online, to make them available for researchers and physicians worldwide. As part of the agreement, the anonymized data shared by BC Cancer, and the AI models and methods developed within the partnership, cannot be used for commercial purposes. The initial application of the models will be for clinical research trials, and the possibility of their use in clinical practice will be investigated.
As cancer cases continue to rise and with the provincial expansion of PET/CT leading to an increased capacity for cancer scanning and diagnostic services, this research is expected to help make reading cancer imaging tests more efficient for radiologists.