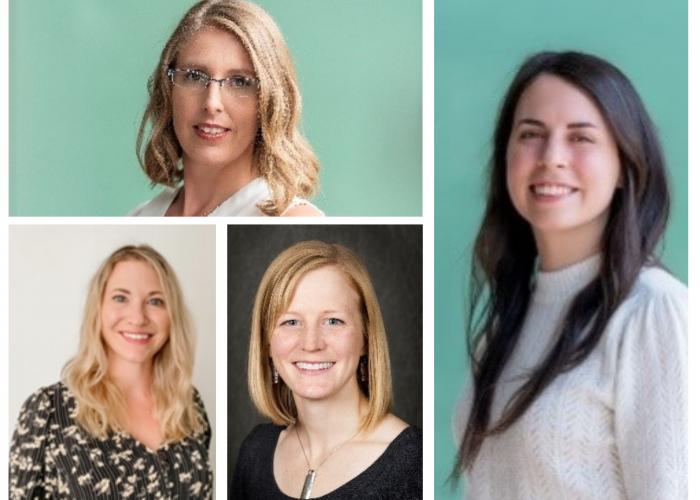 The Nursing and Allied Health Research and Knowledge Translation (NAHRKT) department promotes innovation and excellence in interprofessional research and knowledge mobilization to drive evidence-informed improvements in care, better patient outcomes, and increased system performance. Under the leadership of Dr. Leah Lambert, executive director and senior scientist, NAHRKT has opened the door to prominent provincial and national funding to support research trainee opportunities and embedded research and knowledge mobilization career pathways for nursing and allied health clinicians at BC Cancer.
Heather Kilgour, a registered nurse from BC Cancer – Vancouver and a Master of Science in Nursing student at UBC, was the recipient of a Nursing Research Fellowship. Made possible through the generous support from the BC Cancer Foundation, this award was inspired by the memory of the late Dr. Tracy Truant—a renowned leader in the development of oncology nursing in Canada and tireless advocate of advancing high-quality, equitable cancer care for people in B.C.. Heather's master's thesis is titled, Understanding How to Better Support Oncology Nurses in Conducting Advanced Care Planning in BC's Cancer Care System. The study aims to understand oncology nurses' experiences and perspectives related to advance care planning (ACP), and inform how to better support oncology nurses in engaging in meaningful ACP conversations across B.C.'s cancer care system. When asked about her experience, Heather shared:
"My research is an embedded, nursing-led project that was identified in the clinical practice setting and may have direct implications for oncology nursing practice. I think that's very powerful and demonstrates the supportive environment BC Cancer and the NAHRKT department are creating to facilitate nursing-led research that will improve patient care."
Amber Bourgeois, a nurse practitioner from BC Cancer – Victoria, recently completed a prestigious one-year Health System Impact Fellowship with NAHRKT funded through the Canadian Institute for Health Research (CIHR) and BC Cancer. Her work focuses on studying barriers and systemic differences in cancer treatment access and care for populations who are living with social disadvantage on the basis of structural inequities. In September 2022 she joined the NAHRKT department as an NP clinician researcher to continue the work she started in her fellowship. This new role is the first of its kind at BC Cancer and provides Amber with protected research time alongside her clinical practice:
"I am very humbled to receive support from BC Cancer to allow me to follow my passion and to grow professionally as an emerging research clinician. This is such an exciting time for nursing and allied health, and I look forward to collaborating with colleagues from both clinical and academic environments."
Creating training opportunities and embedded research roles has required the department to leverage internal and external funding sources. With the support of the BC Cancer Foundation, Lindsay Van Der Meer has also joined the department in the novel role of nutrition knowledge mobilization dietitian. This unique provincial role will work to advance evidence-based nutrition practices, filling a gap in resource development and implementation identified by BC Cancer clinicians and the communities we serve.
Lindsay shared her perspective on this unique role:
"Nutrition can be a source of confusion and contribute to distress for people facing cancer. This role directly supports BC Cancer clinicians in applying consistent evidence-based nutrition in their practice. It will also help to generate interest in oncology nutrition research and evidence-to-practice tools and resources. This is a really amazing opportunity for me personally, and for expanding the scope of practice for dietitians."
Nursing and allied health roles and trainee fellowships will continue to be added in the coming months, including opportunities for front-line staff to participate as short-term research study team members. Information on upcoming opportunities that direct-care staff can get involved in can be found on the NAHKRT website.
Andrea Knox, director for NAHKRT shares,
"It's an exciting time for nursing and allied health clinicians to be more involved in and lead research. Our department is uniquely positioned within the health care system to create roles and opportunities for staff to build and apply research skills."
It is critical to make investments in the nursing and allied health workforce that reflect the clinical expertise, disciplinary perspectives, and systems leadership that nurses and allied health providers embody. BC Cancer is a world leader in many aspects of oncology research and practice; now is the time for structural, sustainable investments that put BC Cancer nurses and allied health researchers on the national and international stage.
For more information on how you can get involved in research and KT at BC Cancer, email us at research.kt@bccancer.bc.ca or check out our website.