​​​​​The Knowledge Translation (KT) Challenge is an annual program run in collaboration with Providence Health Care (PHC), Vancouver Coastal Health Research Institute (VCHRI) and BC Cancer. This program uses a comprehensive approach that combines training, mentoring and funding to help clinicians build skills and confidence to identify, implement, and evaluate evidence-informed practice improvements. 
 
Left to right: Amanda Chisholm (VCHRI), Andrea Knox (BC Cancer), Alyssa Chong (VCHRI), Aggie Black (PHC), Marla Steinberg (instructor), Maria Torrejon (BC Cancer)
The KT Challenge includes a very intentional collaboration with patient partners, who offer crucial feedback to strengthen the clarity and impact of the projects. Barb Vincent, part of the KT Challenge steering committee, shares her experience reviewing the projects from a patient partner perspective: 
"There is a lot of really good research that has been done and not being put into practice. I believe the patient is the ultimate recipient of this research, and including a patient partner on the KT Challenge will improve the success of implementation." 
We congratulate the two BC Cancer teams funded this year!​
KT Challenge 2022 Team Recipients​
Enteral feeding discussion aid for patients with head and neck cancer on dual-modality treatments 
Team members: Terry Lok, Eleah Stringer, Samantha Gamble, Evelyn Wu. Mentor: Dr. Nick Bansback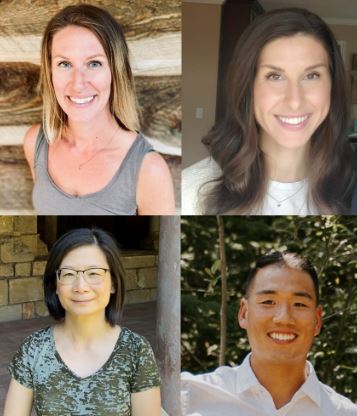 Left to right: Eleah Stringer, Samantha Gamble, Evelyn Wu, Terry Lok.
"As a team of dietitians and a speech language pathologist who work with patients with head and neck cancer, we have observed first-hand how distressing it can be for patients to decide whether or not to accept a feeding tube. The challenges to communicate with patients in a way that would help them make a decision regarding the feeding tube, inspired our team to develop a 'discussion aid'. This tool would help explain advantages and potential risks of feeding tubes, while improving patient education and saving clinician time. Our goal is to create a tool, the 'discussion aid', which can be distributed across each BC Cancer location to support patient education needs. This tool would complement, rather than replace, counselling from health practitioners. Furthermore we hope to meet patient identified learning needs while demonstrating the value of interdisciplinary teams." 
"While we've wanted to tackle a project like this for some time, we haven't had the resources nor mentorship to implement it in a way that is thoughtfully planned. Additionally, our team has thoroughly enjoyed working and learning from our patient partner, a survivor of head and neck cancer, and with Dr. Nick Bansback from UBC/CHÉOS. This collaboration has added layers of depth to our project that we wouldn't have been able to achieve otherwise. The KT Challenge is an enriching experience and we would encourage other interested teams to take the leap and submit an application. Please feel free to reach out to any members of our team if you would like to learn more about our experience."
Show me the evidence - nursing practices and policy at BC Cancer
Team members: Raman Sandhu, Michelle LaFreniere, Megan Crosby, Jagbir Kaur, Scott Beck, Heather Kilgour. Mentor: Dr. Nelly Oelke 

Left to right: Jagbir Kaur, Megan Crosby, Michelle LaFreniere, Scott Beck, Raman Sandhu
"We are a team of BC Cancer registered nurses who perform different nursing roles, including direct care, clinical education, advanced practice, research, and higher education. We are working across our different domains of practice to change the way that new evidence is communicated to nurses at the point of care—and to breakdown some silos along the way."
"As with any evidence-based profession, nursing practice is continually reshaped to reflect new knowledge from within and outside of our discipline. Yet, the evidence that underscores changes to nursing practice can sometimes be inaccessible to clinicians at the point of care. This reality is concerning to our team. We saw the KT Challenge as an opportunity to explore a new process for putting research evidence into the hands of nurses, with the ultimate goal of improving care for the patients, families, and communities we serve."
Congratulations to our BC Cancer teams and the Providence Health Care and Vancouver Coastal Health Research Institute teams.
Learn more about the KT Challenge.