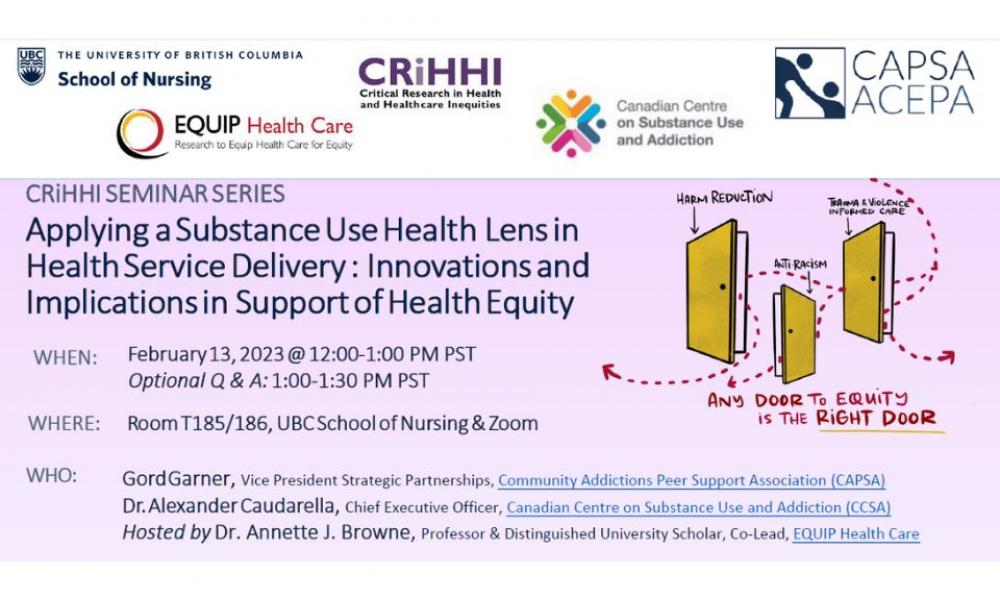 The BC Cancer Nursing and Allied Health Research and Knowledge Translation department in partnership with Dr. Annette Browne of the Cancer Health Equity Collaborative and UBC Critical Research in Health and Healthcare Inequities (CRiHHI), is pleased to invite you to the following presentation on February 13th 2023: Applying a Substance Use Health Lens in Health Service Delivery: Innovations and Implications in Support of Health Equity
Substance Use Health is a lens that frames substance use in relation to a spectrum encompassing non-use, beneficial uses, occasional risks or harms, use that has ongoing or understood harms and consequences, and substance use disorders. It encompasses harm reduction to promote health in relation to using substances. Working with people to support their priorities with regard to Substance Use Health means a) prioritizing self-determined health goals as the primary service success outcome, b) removing barriers to care, including intersecting forms of stigma, and c) facilitating access to social determinants of health for those with inadequate access. Substance Use Health is increasingly being integrated as an essential component of health equity actions within organizations and at the point of care.
Please join us for a discussion about Substance Use Health as an innovative lens with implications for policy and health service delivery. To learn more about Substance Use Health, see CAPSA: Substance Use Health (EN).
Speakers:
Gord Garner, Vice President, Strategic Partnerships, Community Addictions Peer Support Association (CAPSA)
Dr. Alexander Caudarella, CEO, Canadian Centre on Substance Use and Addiction (CCSA)
Hosted by Dr. Annette J. Browne, co-lead, EQUIP Health Care, Professor & Distinguished Scholar, UBC School of Nursing
Please join us for a one-hour presentation Monday February 13 via Zoom (or at UBC School of Nursing) from 12:00 – 13:00, with an optional Q&A from 13:00 – 13:30.
For more information and to register: https://nursing.ubc.ca/events/2023/substance-use-health-lens