Each year, oncology nurses from across Canada come together at the Canadian Association of Nurses in Oncology/Association canadienne des infirmières en oncologie (CANO/ACIO) conference to connect with their peers and improve their professional knowledge in the areas of oncology nursing, patient engagement and interdisciplinary practice. After two years of virtual gatherings, the 2022 CANO/ACIO conference was held in-person from October 27-30 in Victoria, B.C.
At the annual conference, CANO/ACIO recognizes some of the outstanding achievements of Canadian oncology nurses through its annual awards program. This year, three BC Cancer nurses were recipients of CANO/ACIO awards at the annual Recognition of Excellence Awards Ceremony held on Saturday, October 29:
CANO/ACIO Nursing Scholarship Award
Megan Crosby, senior practice leader from BC Cancer - Centre for the North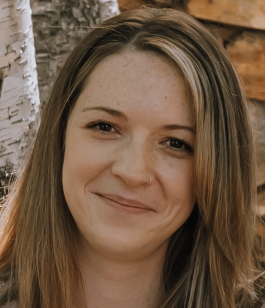 CANO/ACIO Research Grant
Bonnie Leung, nurse practitioner from BC Cancer – Vancouver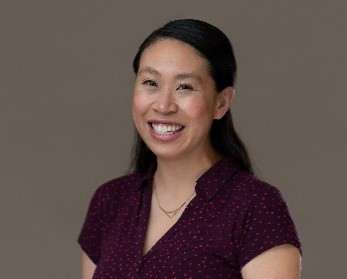 Dr. Tracy Truant Memorial Scholarship
Jagbir Kaur, clinical nurse specialist, BC Cancer Nursing and Allied Health Research and Knowledge Translation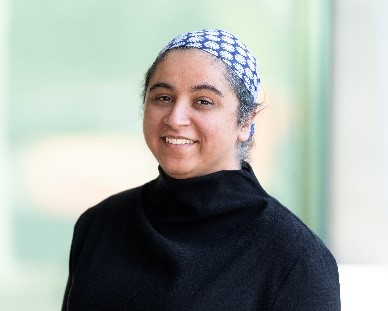 CANO/ACIO Poster Award
CANO/ACIO also recognizes exemplary work presented at the conference, with delegates voting for the best posters in the clinical, research, education, and leadership/models of care categories. This year, the following nurses were awarded CANO/ACIO Poster Awards:
Education Category, 1st Place: Virtual Systemic Therapy Patient Education Project
Sarah Felber, clinical nurse educator, BC Cancer - Victoria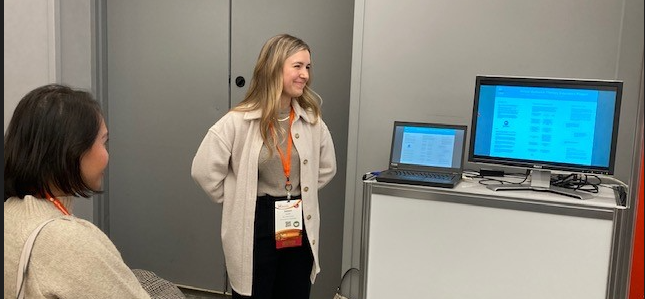 Sarah Felber (right) presenting her winning poster to a conference attendee.
Throughout the COVID-19 pandemic, patients have not been able to attend in-person systemic therapy teaching sessions. Patients were able to access an online video presentation, but many were still not getting this valuable information prior to their first treatment. This has led to increased anxiety and questions leading up to their treatment, a lack of understanding of treatment side effects and risks, and a higher workload for systemic therapy nurses and pharmacists. Sarah's poster presented an evaluation of BC Cancer clinical nurse educators facilitating systemic therapy patient teaching sessions virtually, including its impact on both patient and provider outcomes.
Clinical category, 2nd Place: Venipuncture in the Affected Limb of Patients with Breast Cancer
Michelle Harbott, registered nurse, BC Cancer - Vancouver
Heather Kilgour, registered nurse, BC Cancer - Vancouver
Jagbir Kaur, clinical nurse specialist, BC Cancer Nursing and Allied Health Research and Knowledge Translation
Kornelia Filipowski, senior practice leader-nursing, BC Cancer - Kelowna
Scott Beck, clinical nurse specialist, BC Cancer Nursing and Allied Health Research and Knowledge Translation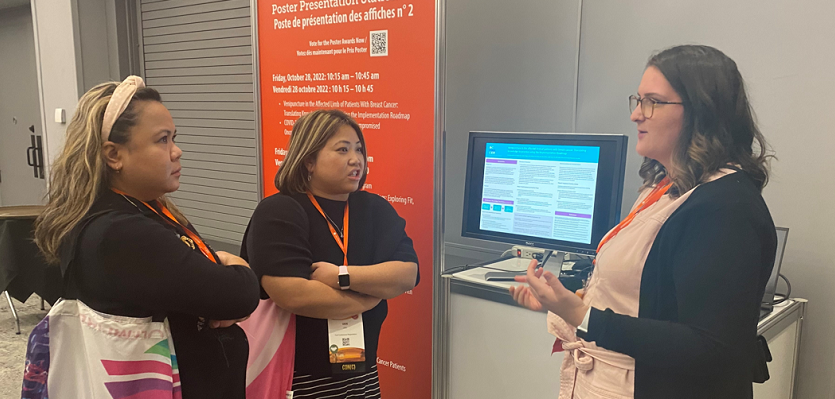 Michelle Harbott (right) presenting her team's winning poster to conference attendees.
Lymphedema is a common complication experienced by patients with breast cancer that involves a permanent swelling of an arm following surgical lymph node removal or radiation to the lymph nodes. Historically, to mitigate risk of lymphedema, both patients and nurses are advised to avoid venipuncture to the 'affected arm', including blood draws and intravenous insertion. More recently, confusion has arisen as organizations, guidelines, and cancer care providers are providing mixed messages regarding the risk of lymphedema following venipuncture in the affected arm.
The poster developed by Michelle and her team discussed the literature related to venipuncture in the affected limb of patients with breast cancer and outlined of the teams' knowledge translation process, from the identification of the clinical practice issue to the development of recommendations for nursing practice and updating resources to clarify BC Cancer's position.
Please join us in congratulating all of the BC Cancer nurses recognized for their outstanding work at this year's CANO/ACIO conference!