The BC Cancer Practice-based Research Challenge is an innovative approach to research training that empowers teams of BC Cancer staff to identify clinical questions at the point of care and find evidence-informed answers through research. This annual program offers nursing and allied health professionals with limited or no research experience the opportunity to learn basic research skills. Five teams representing a mix of disciplines from across BC Cancer were selected to receive funding as part of the 2022 program.
Exploring the use of a radiation therapist patient navigator in tailoring radiation therapy education to the needs of the patient​​
Patient ​education is key to ensure patients are able to proceed confidently into and throughout their radiation therapy experience. Julia, Jordan, and Payton are involved in implementing the patient navigation role at BC Cancer - Kelowna to provide tailored patient education.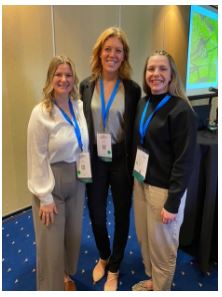 Left to right: Julia Campbell, Jordan Tamming, Payton Deibeirt. Not in the picture: Dr. Fiona Mitchell (mentor)
They decided to participate in the Practice-based Research Challenge to incorporate a research-informed approach to their work role:
"We would love to support further development of the role of a radiation therapist, while also improving patient-centred care", says Payton. 
Their research study aims to explore the effectiveness of the radiation therapy patient navigator role in engaging and adapting education tools to patients' needs.
Evaluating a MSLA 3D printer for radiotherapy
3D printing patient devices (called bolis) can be a cost-effective solution to reduce overall treatment time and increase comfort for patients receiving radiation therapy. However, the use of this revolutionary technology in the BC Cancer clinical setting is still limited as the printers are not user-friendly. Through their feasibility study, Nathan, Derk, Eda, and Taran want to help radiation therapist become users of 3D printers to fabricate bolus before a patient'​s initial treatment. 
"There will be a few hurdles we need to clear, but we can use the experience of our research project to guide others interested in 3D printing applications in our organization. Publishing the results in a peer-reviewed journal would be another goal", explains Nathan.


Left to right: Nathan Smela, Eda Tan, Derk Grooten, Robert Olson (mentor). Not in the picture: Taran Braich
Nathan and his team will test the workflow of a liquid 3D printer for radiation therapy against an established clinical workflow using a plastic 3D printer. They will compare the experience and workflow times on each printer of a group of  radiation therapist  specially trained for this study. 
​Exploring the effects of delaying LA_SSA treatment on patient symptoms and experience as a result of scheduling DOTATOC PET scans
Pavithraa, Amy and Jennifer, decided to participate in the Research Challenge to learn about the research process and how it translates into practice. 
"We h​ave learnt a lot about how to seek out gaps in patient care and address them through research. It's truly encouraging to receive feedback and discuss our research project with experts in research," says Pav.
​​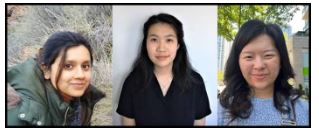 Left to right: Pavithraa Ravi, Jennifer Wong, Amy Lam​. Not in the picture: Dr. Ingrid Bloise (mentor)​
Through their research study, Pav and her team are examining how delaying somatostatin analog treatment as a result of scheduling DOTATOC PET/CT scans can affect neuroendocrine tumor patients' carcinoid symptoms and impact their quality of life. They hope their research will grow the current body of knowledge in this area to inform changes to preparation and care for future scans.​
Evaluating the impact of and access to four radiation therapy videos
Devon, Jenny, Henna, Danielle and Janet were aware that most people do not know much about radiation therapy before their first appointment, which can add to patients' anxiety about their cancer and their treatment. In their study, they will explore how watching four radiation therapy videos may affect patients' feeling of preparedness before their first radiation therapy appointment. 
For Devon, one of the biggest learning from participating in the Research Challenge has been "the need to be flexible and adjust our plan based on feedback and the needs of staff and patients."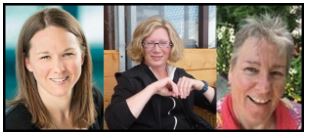 Left to right: Devon Poznanski, Karen McDonald (patient partner), Fiona Mitchell (mentor). Not in the picture: Jenny Chiu, Henna Parmar, Danielle Wittal, Janet Walker
Devon and her team decided to formulate their project in collaboration with Karen, a patient partner:
"I know first-hand how devastating a cancer diagnosis is, and I want to contribute, in any way I can, to help improve other people's experiences with cancer. I was specifically interested in the Research Challenge involving radiation therapy because I wanted to provide input from the perspective of a person who is likely to have radiation therapy in the future," explains Karen.
Dr. Fiona Mitchell, decided to support the Research Challenge as a mentor. She is currently working with Devon's and Julia's teams. Dr. Mitchell is hoping to help demystify research and build capacity for clinical research as part of professional practice:
"The process for building a research muscle is well supported by the challenge and will hopefully establish solid research practice in the participants."
​​Patient perceptions of barriers to routine mammography in 2020-2021 post-COVID-19 lockdown
Miranda and Margaret, registered nurses, saw the reported delays and challenges of cancer screening during COVID-19. 
"We are both located in northern B.C. and feel passionately about identifying health care inequities in the North," says Margaret.
In their study, Margaret and Miranda will explore the experience of women in northern B.C. that were eligible for routine screening mammography during March 2020 to March 2021. Delays in mammography due to the COVID-19 pandemic have been documented but the underlying reasons, as experienced by patients, have not been sufficiently studied.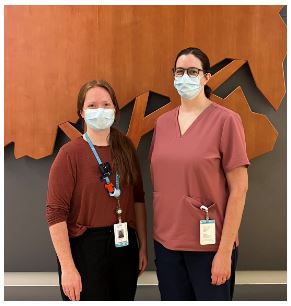 Left to right: Miranda Doerkson and Margaret Layton. Not in the picture: Farah Mckenzie, NP (mentor).
Miranda and Margaret are interested in learning new areas of nursing. The Research Challenge has helped them introduce nursing research into their practice with the courses and research leaders supporting them.
"I have enjoyed the mentorship involved in the BC Cancer Research Challenge. Whenever we have had questions, there are people who are able to guide and support us at each step," shares Margaret.
"I have enjoyed planning out interview questions and ethical considerations to think about with studies. I have always been extroverted and love talking to people and asking questions," explains Miranda.​
On behalf of the Research Challenge Advisory Council, we congratulate each of the teams selected to receive funding through the Practice-Base Research Challenge program in 2022!
What's next? 
The Research Challenge is organized by the Nursing and Allied Health Research & Knowledge Translation Department in collaboration with academic partners and the BC SUPPORT Unit. The 2022 grant competition is sponsored by the BC Cancer Foundation, the BC Cancer Research Institute, and the BC Nurses' Union.