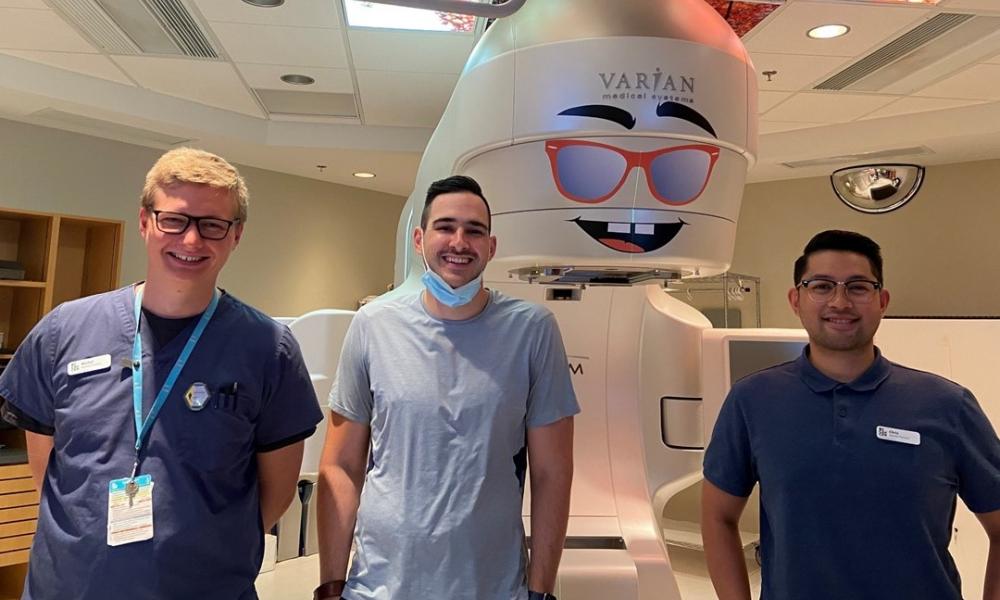 The Practice-based Research Challenge is an annual program that provides training, mentorship, and funding to help clinicians develop and conduct research projects inspired by their practice and the desire to improve patient care. Five teams have been awarded funding to conduct small-scale research projects in their own clinical settings.​ One of the teams is led by Hilary Cochrane, a speech language pathologist from BC Cancer - Victoria:
​"The impacts on swallowing can be very hard to manage and really impact a person's safety as well as eating related quality of life […] For some time, I have wanted to look at individuals' lived experiences with late radiation effects, and the Research Challenge seemed like a great opportunity to complete this research with plenty of guidance and support."
Michal Stankiewicz, Anthony Maletta, Christopher Tan, and Omar Salman, radiation therapists from the Centre for the North, took the challenges of interacting with patients during the COVID-19 pandemic as a chance to improve their practice through research: 
"Our inspiration came from our difficulty hearing and interacting with patients and other staff members wearing masks or other PPE. We talked about how difficult it was to ask patients a simple question and then thought to ourselves, if we are finding this difficult, others might too!"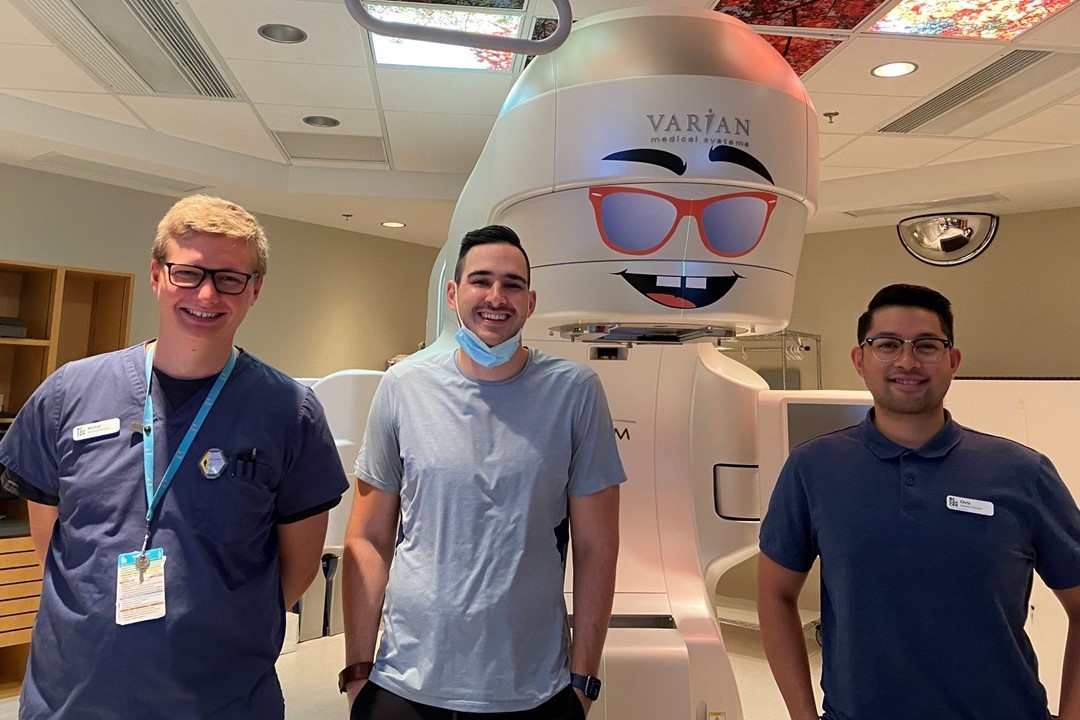 L to R: Michal Stankiewicz, Anthony Maletta, Christopher Tan 
For Michal, the Research Challenge is also an opportunity for professional development: "We are all passionate individuals who wanted to continue to grow our careers and felt that taking this step in accomplishing a research project from start to finish would be a great idea." 
A sentiment that is shared by Nadine Colpo, Rebekah Bahr, Alisa Kami:"We were all interested in learning more about practiced‐based research." This team from Functional Imaging will assess the effectiveness of supplemental email instructions to increase scan preparation compliance rates for adult FDG PET/CT scan patients.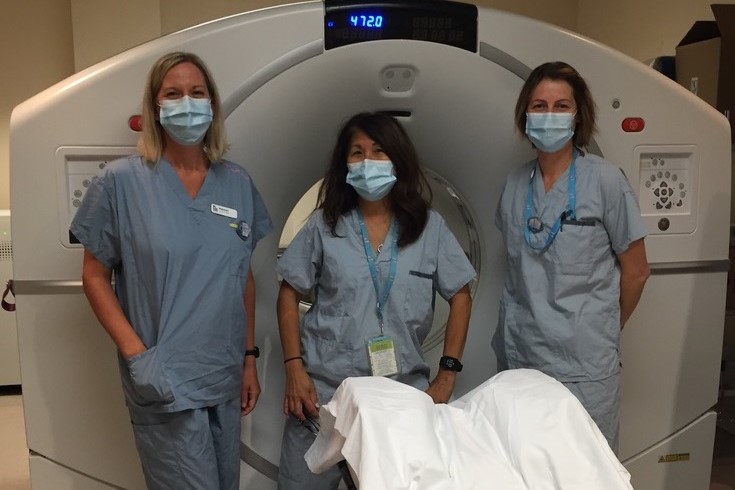 L to R: Rebekah Bahr, Alisa Kami, Nadine Colpo
Advancing nursing and allied health research
Sue Gill and Jann Stewart, registered nurses at BC Cancer - Abbotsford, will assess whether a self-reporting tool for gynecologic patients receiving active systemic therapy will allow for earlier interventions and better patient outcomes, "both of us had been being involved in the pilot of Phase 1 of the GIC‐PRO research project and would like to see a standardized approach for patients to self‐report symptoms". Dr. Jenny Ko is supporting Sue and Jan as a mentor:
"I think nurses are critical to the success of patient care and person‐centred care. I think they form a vital part of research in oncology. In Abbotsford we have our allied health clinicians participating in various forms of research projects to increase our academic output and improve care."
Joyce Lee, provincial leader of Patient and Family Engagement, is mentoring Jennifer Nuk, Angela Bedard, Mary McCullum, and Melanie O'Loughlin from the Hereditary Cancer Program. Joyce recognizes the unique and valuable perspective that clinical staff bring to advance patient-centred care through research: 
​"When we come together, converse and probe, we enlarge one another's understanding of person-centred care. It's like looking through a kaleidoscope [...] Research that includes diverse perspectives across disciplines is a step towards excellence in cancer care."
Jennifer, Angela, Mary, and Melanie will explore the attitudes of BC/Yukon hereditary cancer patients to a supported direct-contact approach for informing relatives about cascade testing. They hope their findings will help to inform hereditary cancer clinical practice in B.C. 
​A collaborative endeavour 
BC Cancer educators and leaders, novice and senior researchers, and patient partners participated in the review committee. From their diverse areas of expertise, their role is to provide constructive feedback to help the teams improve their projects, "I provide a research lens to ensure scientific rigour in the proposed practice‐based and clinician‐led research projects", says Helen McTaggart-Cowan, senior health economist at BC Cancer Research Institute. 
Lise, a patient partner with a background in the fields of science and linguistics, was glad to see that health care professionals and researchers were increasingly motivated to seek the experience of patients, "I hope that the researchers value the contributions of the other patient partners who donated their time to their research projects and that they will continue to recognize and value the input of patient partners in their future careers." 
A goal that is shared by Vidhi Thakkar, postdoctoral fellow at Trinity Western University, "I am very interested in patient‐oriented research so encouraging our clinician researchers to work with patient partners was rewarding for all of us [in the review committee] and is the focus of the Quadruple Aim of Healthcare." ​
The Research Challenge can be a learning opportunity not only for the trainees. Catherine Ojerinde, a PhD candidate from the UBC School of Nursing explains: 
"It was my first time taking part in an open team peer review. It was fascinating to read different research perspectives and to hear clinicians from various cancer treatment areas present their proposed research and ideas during the virtual meeting, which allowed me to learn how clinicians have been positioned to develop and conduct clinically relevant research."​
​What's next? 
Details to participate in the Research Challenge 2022​ will be posted in December 2021.
The Nursing and Allied Health Research & Knowledge Translation Department will soon launch the Knowledge Translation (KT) Challenge​ to support BC Cancer staff who may not have much KT expertise but are responsible for moving evidence into practice. 
2021 Research Challenge Funded Projects
​Use of PRO-based multidisciplinary intervention in gynecologic oncology patients receiving active systemic therapy. Sue Gill and Jann Stewart. Mentor: Dr. Jenny Ko.

Direct contact. Jennifer Nuk, Angela Bedard, Mary McCullum, and Melanie O'Loughlin. Mentor: Joyce Lee, PhD.

Supplemental email instructions for FDG PET/CT Scans: Investigating the impact on preparation compliance rates. Nadine Colpo, Rebekah Bahr, and Alisa Kami. Mentor: Dr. Patrick Martineau.

Understand the patients' experience with late radiation associated dysfagia (late RAD) effects. Hilary Cochrane, Cara Miller, and Lisa Kuhn. Mentors: Stacey Skoretz, PhD and Camila Dawson, PhD.

Radiation Therapists' perspective on the impact of COVID-19 precautions in clinical practice. Michal Stankiewicz, Anthony Maletta, Christopher Tan, and Omar Salman. Mentor: Dr. Robert Olson​​.
The Research Challenge is organized by the Nursing and Allied Health Research & Knowledge Translation Department in collaboration with academic partners and the BC SUPPORT Unit. The 2021 grant competition is sponsored by the BC Cancer Foundation, the BC Cancer Research Institute, and the BC Nurses' Union.