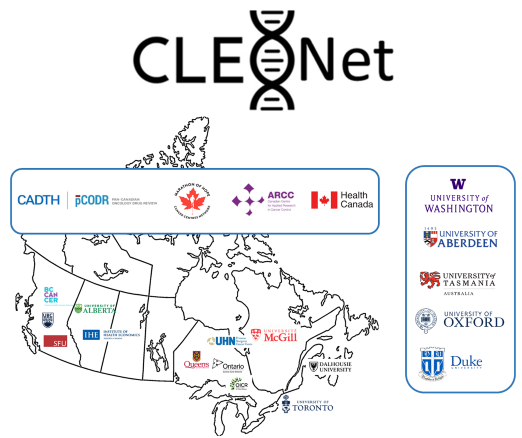 Who we are:
The Canadian Network for Learning Healthcare Systems and Cost-Effective 'Omics Innovation (CLEO) is a pan-Canadian collaboration for sustainable precision medicine. Our multidisciplinary team comprises of researchers in precision oncology, health economics, health informatics, and health policy, as well as, clinicians, HTA bodies, government regulators, technology developers, and persons with lived experience of cancer.
CLEO is supported by Genome British Columbia / Genome Canada [G05CHS] and our co-funding partners: Genome Quebec, Terry Fox Research Institute, BC Cancer's Personalized OncoGenomics Program (POG), Institute of Health Economics, Simon Fraser University, Ontario Institute for Cancer Research, Canadian Centre for Applied Research in Cancer Control (ARCC), National Cancer Institute, Krembil Foundation, Australian Research Council, and Roche.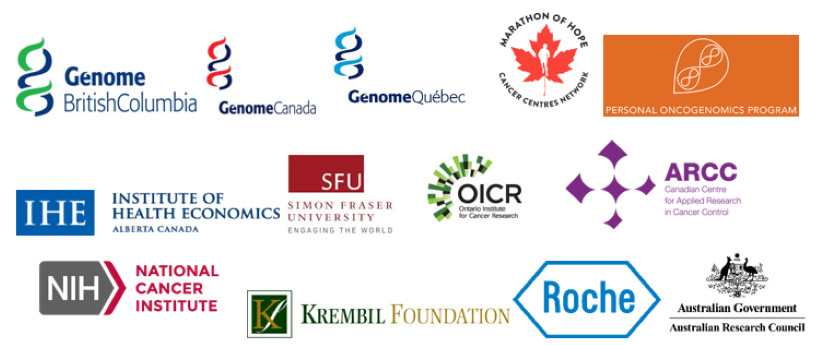 What we do:
CLEONet's research evaluates Canada's 6 key precision oncology initiatives to:
Inform the design of learning healthcare systems (LHS) to enable sustainable cancer care.
Advance research that enables value-informed implementation of precision oncology.
Build capacity to deliver actionable recommendations and its benefits into the future.
Produce research that yields individual, social, and economic benefits for all Canadians.
Through these research efforts, CLEONet will deliver:
Life-cycle health technology assessment (LC-HTA) framework and protocols for LHS.
Patient-centred blockchain-based secure data sharing platform (SDSP).
Policy guidance on healthcare data management that reflects patient preferences and values.
Synthesis of case study findings.
Projects:
Activity 1: Reimbursement strategies for precision oncology
Confronted with value uncertainty and high patient demand, payers are considering managed access approaches that re-evaluate adopted technologies or that manage the risk of early patient access through risk-sharing arrangements between developers and healthcare systems. Regulators, payers, pharmaceutical companies and HTA organizations are calling for case studies in which to test methods adapted to LC-HTA.
In the context of our precision oncology case studies, this research activity aims to:
Develop and apply LC-HTA methods for reimbursed technologies (i.e., OncoPanel and Myeloid Panel).
Characterize the economic impacts of pilot precision oncology programs (i.e., Personalized Onco-genomics [POG – NCT02155621] and the Ontario-wide Cancer Targeted Nucleic Acid Evaluation [OCTANE – NCT02906943] programs).
Compare managed access and risk sharing strategies (i.e., leasing reimbursement, access with evidence development, and rebate reimbursement) in the presence of evidentiary uncertainty
Activity 2: Secured data sharing platforms and patient control of data
Precision oncology is premised on large-scale, annotated 'omics data that improve our understanding of mutations, treatment response, resistance, quality of life and side effects, within an LHS. Associated concerns relate to control over data generation, sharing, and use; who benefits from these; equity of access; as well as concerns of privacy, security, and risk of re-identification. Such concerns may limit patient participation and trust, and slow the implementation of precision oncology initiatives.
To address these concerns, this research activity aims to:
Engage with cancer patients and survivors to elicit preferences for data governance, patient control of data, and technology develop access to data using a mixed-method approach.
Develop a proof-of-concept SDSP using blockchain technology that protects patients' interests in 'omics data, while enabling their participation in LHS.
Activity 3: Data governance in support of LHS initiatives for precision oncology
Data governance in support of LHS initiatives for precision oncology implicates an intricate web of statutes, regulations, guidance, policies, and practices. Statutes and subordinate regulations collectively set the legal framework for the governance of 'omics and other health information, health and safety of precision oncology technologies, professional practice, intellectual property (IP) rights, clinical research, as well as coverage and reimbursement. However, institutional/organizational policies and practices interpret and implement this body of law, regulation, and guidance in ways that may not accord with the values and preferences of Canadians in supporting LHS initiatives for precision oncology. Improving Canadian systems for data generation that enable individualized care decisions and services, as well as improving the efficiency of clinical trials, is a Health Canada priority.
This research activity aims to analyze legal, policy, and practice enablers and impediments to:
Generation and utilization of real-world evidence.
Data generation, access, and use within and across provincial health systems, research institutions, the not-for-profit sector, and the private sector.
Legal implications for patient control of data, enabled by blockchain technology.
Activity 4: Case Study Synthesis
Case study research allows for the identification of causal mechanisms underlying complex, systems-dependent phenomena-like innovation. However, determining that there is a causal effect does not provide the causal story. Since CLEONet aims to make recommendations on practical changes to improve policies, practices, and platforms that support LHS for precision oncology technologies, our case-based approach will facilitate a causal account of how variables create change in these outcomes. We will analyze the commonalities and differences across the 6 case studies for each sub-activity in our comparative case study design, enabling us to view the same evidence in multiple ways, and preventing us from focusing on our initial impressions of each case.