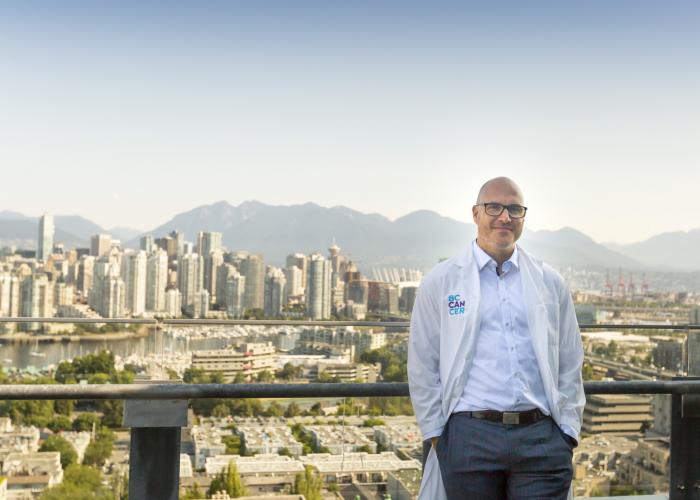 The BC Cancer Excellence Awards provide an opportunity to shine a light on our inspiring people and teams who work every day to ensure that British Columbians receive world-class, patient-centred cancer screening, treatment and support, and benefit from new discoveries that are helping change the face of cancer.
Dr. Florian Kuchenbauer is a clinician-scientist at the Leukemia/Bone Marrow Transplant Program of BC, senior scientist at the Terry Fox Laboratory, and associate professor of medicine at the University of British Columbia. He is the winner of this year's BC Cancer Excellence Award in the category of Patient Care Champion, nominated by patients.
A Patient Care Champion is a physician or staff member who helps improve patients' experience, quality of life, quality of care and/or knowledge of the cancer system – either directly or indirectly. They show compassion, ingenuity and leadership, and act as a role model for others.
Dr. Kuchenbauer, who was recruited with the support of BC Cancer Foundation, is known for his knowledge and empathy. Dr. Kuchenbauer´s clinical and research work at BC Cancer focuses on acute myeloid leukemia and multiple myeloma. He is highly respected by patients, colleagues as well as students and was also nominated for the Workplace Inspiration Award.
 
Dr. Kuchenbauer leads by example. His leadership and passion to help others inspires and motivates everyone around him. 
One his colleagues shared, "Dr. Kuchenbauer is a humble, approachable and likable individual who cares for this team as whole individuals. He truly is a team player – no job is too big or too small for him. I am proud to call Dr. Florian Kuchenbauer my supervisor. His passion for cancer research and patient care radiate throughout our group and inspire us to be the best that we can be."
Patients value his compassion and dedication to providing the best possible care. 
A patient shared, "Dr. Kuchenbauer is brilliant in supporting, empowering, and guiding me as I move towards my goal of recovery so I can spend more precious time with my family and doing the things I love. And our strategy is working. The whole world should know how amazing he is!"
Congratulations Dr. Kuchenbauer on receiving this year's Patient Care Champion Award, nominated by patients.
Visit bccancer.bc.ca/awards for more information on our awards.