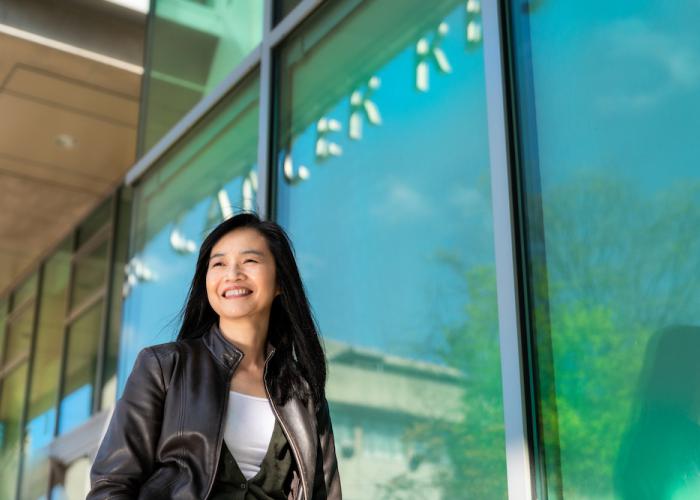 Dr. Catherine Poh leads the way when it comes to oral cancer research and understanding the complex stages involved in malignant transformation. She is currently one of two practicing oral maxillofacial pathologists in B.C. and is actively involved in developing processes by which new research information can be transferred into dental communities.
As a clinician scientist of the BC Oral Cancer Prevention Program (BCOCPP) at BC Cancer and an associate professor at the Faculty of Dentistry at the University of British Columbia, Dr. Poh's primary research focus involves application of molecular and imaging tools for community screening, early detection, and management of cancerous and precancerous oral lesions. She is also a Canadian Institutes of Health Research (CIHR) clinician scientist and a scholar of the Michael Smith Foundation for Health Research.
We had a chance to speak with Dr. Poh about her oral cancer research and how her work is providing clinicians and patients a better understanding of treatment options.
What is the focus of your research?
Oral cancer has a huge impact globally. Worldwide more than 300,000 new cases of oral cancer are reported each year, with half of the individuals dying of the disease. Those who survive often suffer from significant functional and cosmetic compromises.
It is important to identify the disease early and to develop new ways of treating it in early stages. Being a clinician and scientist, my primary research focus involves the application of molecular and imaging tools for community screening, early detection, risk assessment, and management of cancerous and precancerous oral lesions.
What are your thoughts on the future of oncology?
The future of oncology is in prevention. Cancer diagnosis and treatment imposes a heavy societal burden. The introduction of more sophisticated imaging and diagnostic techniques and advanced drugs has led to increasingly expensive treatments, which may be affordable only for few patients.
Following the success of cervical cancer screening, screening for breast cancer and colorectal cancer has shown significant improvement in early detection.
Prevention programs are an important part of the effort to control cancer, as they are able to reduce both the incidence of cancer and mortality.
What do you think is the most pressing problem facing cancer research now?
The advances in molecular technologies have made significant progress in the identification of new biomarkers that can potentially be used in early detection, diagnosis, and prognosis prediction.
However, few of them have successfully translated to the clinical side to truly improve patient care.
Additionally, a lot of research funding and resources have been used to support either cancer types (e.g., breast cancer or prostate cancers, or those at late stages). Few funding dollars and institutional supports have been available for prevention, screening and early detection.
What advice would you offer to young clinician scientists?
Clinician scientists play key role in translational research. They are the key to identifying clinical problems in oncology patient care. Meaningful and impactful translational research relies on them to take the initiative to find solutions from researchers and gradually improve patient care.