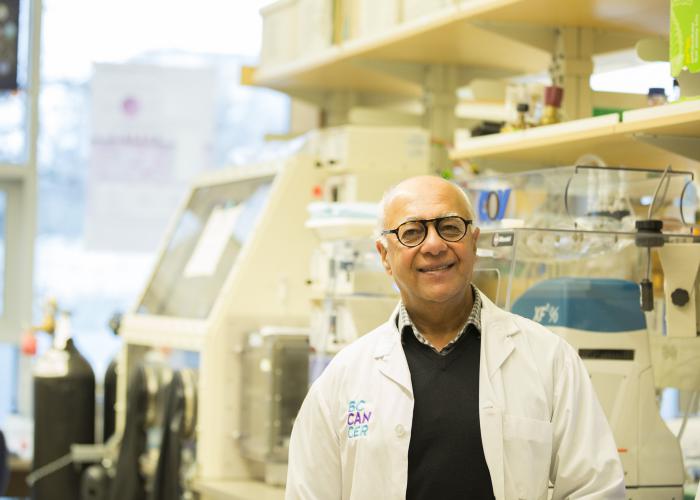 Pre-clinical trials conducted by BC Cancer Research show promising results as a treatment for certain types of advanced cancer
Going toe-to-toe with cancer, especially pancreatic cancer, is never easy. Pancreatic cancer is inherently difficult to treat, but a new treatment, in clinical trials at BC Cancer has the potential to be a heavy hitter when combined with existing therapies.
Developed by distinguished BC Cancer scientist Dr. Shoukat Dedhar, this treatment method doesn't work on the tumours themselves but rather the microenvironment that allows them to thrive. As cancers advance and grow within the body, they adapt from feeding on oxygen to feeding on glucose meaning that their immediate surroundings are hypoxic – or free from oxygen. It is here that Dr. Dedhar and his team found the tumour's vulnerability. By combining this treatment, in addition to existing therapies like chemotherapy or immunotherapy, the tumours receive a one-two punch that is found, in pre-clinical models, to be more effective than treating with chemotherapy or immunotherapy alone.  
"These are very promising results, not just for pancreatic cancers but we've also found that advanced melanoma and certain types of advanced breast cancers have been responsive to this treatment," says Dr. Dedhar. "When cancers are more advanced they are inherently more difficult to treat because they are resistant to our current treatment methods. This combination treatment has the potential of bringing new hope to patients with advanced cancers who are finding their treatments ineffective."  
Dr. Dedhar's findings have recently been published in Gastroenterology and Cancer Immunology Research. 
To learn more about clinical trials at BC Cancer and across Canada visit the BC Cancer Clinical Trials webpage.