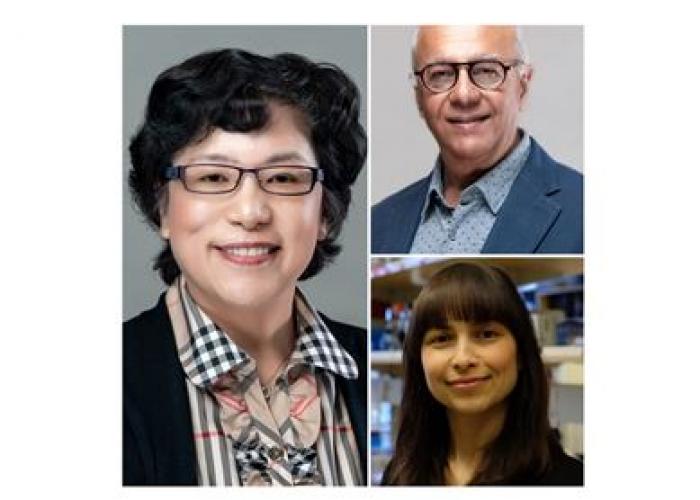 Building on a BC Cancer discovery from decades past, a new combination treatment has shown promise to overcome drug resistance and relapse in people with chronic myeloid leukemia. 
Building off the discovery of an enzyme called integrin-linked kinase (ILK) made by BC Cancer distinguished scientist Dr. Shoukat Dedhar 24 years ago, BC Cancer's Drs. Xiaoyan Jiang and Shoukat Dedhar have made a significant advancement in understanding the role of this enzyme in blood cancers. 
In a study published today in Cell Stem Cell, Dr. Katharina Rothe from Dr. Jiang's laboratory, working together with Dr. Dedhar, found that not only is ILK highly abundant in chronic myeloid leukemia but when this enzyme is inhibited in addition to the current standard-of-care treatment, the results are more effective. This is because ILK-inhibition specifically targets dormant cancer stem cells that the other treatment isn't able to do on its own. 
"These dormant cancer stem cells are a big problem for drug resistance and relapse," says Dr. Jiang. "Most drugs only treat bulk cancer cells that are dividing and growing. But these dormant cancer stem cells are not in cell division so they remain untreatable. This is dangerous because those cells are left alive in the body. A patient can be in remission for years and all of a sudden, without warning the cancer stem cells begin dividing and this can cause relapse in the patient."  Drs. Xiaoyan Jiang and Connie Eaves at BC Cancer discovered this critical dormant chronic myeloid leukemia stem population about 20 years ago.
Current treatments for chronic myeloid leukemia are life-long, meaning that most patients need to continue treatment even when in remission. That's because the cancer stem cells linger and contribute to drug resistance and relapse. With chronic myeloid leukemia, there is a high relapse rate for patients who stop receiving treatment even for a few weeks. In some cases, the cancer returns in a form that is untreatable. 
In a lab setting, Drs. Rothe and Jiang have found that combining the standard treatment with the ILK enzyme inhibitor made the drug resistant cancer stem cells more sensitive to the treatment, while not being toxic to healthy stem cells, essentially increasing the effectiveness. The next step will be phase 1 clinical trials following some modifications to the ILK enzyme inhibitor to make it more stable for consumption. 
Abnormal activity of ILK is associated with poor prognosis of cancer patients and this combination strategy may also apply to other forms of cancer where the ILK enzyme is highly increased. Chronic myeloid leukemia (CML) accounts for approximately 15-20 per cent of all adult leukemia at diagnosis.