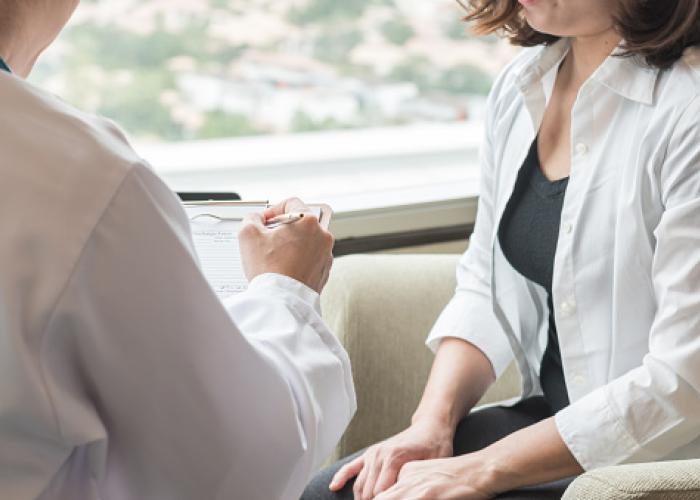 The new test will be able to better diagnose different types of ovarian cancer, a tool that could one day guide and improve treatment options for patients. 
A study published today in Clinical Cancer Research, a journal of the American Association for Cancer Research, outlines a new tool that could lead to improved treatment options for patients diagnosed with the most common and deadliest forms of ovarian cancer. Researchers from BC Cancer, the University of British Columbia, and the Vancouver Coastal Health Research Institute partnered with collaborators around the world on this study; one of the largest ovarian cancer investigations to date which included data compiled by more than 50 research institutes and involving more than 3,800 ovarian cancer patients worldwide.
The new test, known as PrOTYPE (Predictor of high-grade serous Ovarian carcinoma molecular subTYPE), is specifically designed to analyze and classify high-grade serous ovarian cancer, the most common and deadliest form of ovarian cancer. Using this new test, researchers and clinicians alike will be able to further classify an individual patient's tumour into one of four known molecular subtypes, each with its distinct biological features believed to respond differently to treatment options.
"This year, approximately 380 people in British Columbia will be diagnosed with ovarian cancer," says Dr. Michael Anglesio, the study's senior author, who was a research associate with BC Cancer and OVCARE, B.C.'s multidisciplinary gynecological cancer research team, when this work was first started. Today, still part of OVCARE, he leads a research group at UBC and Vancouver Coastal Health Research Institute. "Currently patients receive the same standard course of treatment, but by being able to identify their subtype, clinicians may be able to provide more targeted treatment options down the road." Dr. Anglesio, along with lead author, UBC's Dr. Aline Talhouk, BC Cancer's Dr. David Huntsman and 12 other BC researchers contributed to the 125 author study.
"The study involved significant contributions from investigators around the world who are part of the Ovarian Tumour Tissue Analysis," says Dr. David Huntsman, BC Cancer distinguished scientist, professor in the department of pathology & laboratory medicine and obstetrics and gynecology at UBC, and co-founder and director of OVCARE. "Collaboration has been a key component to the success of this research and we are continuing to slowly move the needle to improve outcomes and reduce the burden of cancer for patients who may face this disease in the future." Dr. Huntsman began the Ovarian Tumour Tissue Analysis (OTTA) consortium with international collaborators in order to develop biomarkers for ovarian cancer, recognizing that large-scale studies such as this one would require significant sample sizes.   
With PrOTYPE, a small amount of information—55 informative genes from a small tissue sample—can quickly determine the tumour subtype with more than 95 per cent accuracy. Researchers also developed a corresponding web tool, enabling clinicians to print out a report that can be added to a patient's records. Researchers see great potential for the test to one day guide patient care. The test is already being used in ongoing clinical trials investigating whether certain subtypes are more sensitive to particular treatments among patients with high-grade serous ovarian cancer.
This study was made possible thanks in part to the generous donors of the BC Cancer Foundation, who have enabled scientists to produce research that has changed the way ovarian cancers are prevented, diagnosed and managed. Support was also received from the UBC Faculty of Medicine, the VGH+UBC Hospital Foundation, National Institutes of Health, Canadian Institutes of Health Research, US Department of Defense, Michael Smith Foundation for Health Research, and others.
A version of this story is also available on the UBC Faculty of Medicine's website