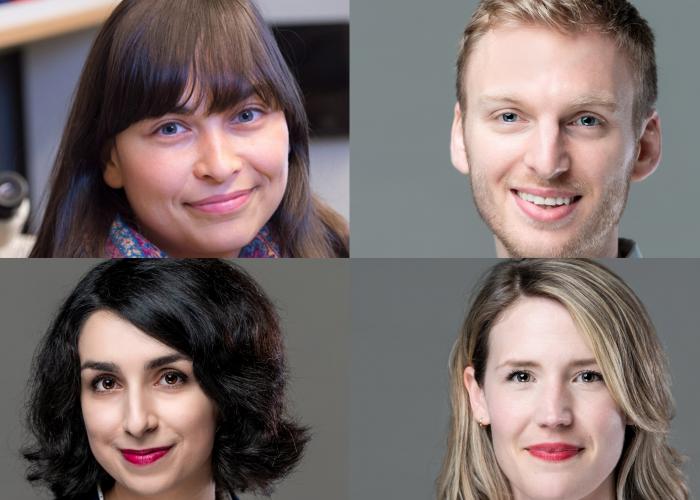 Top L to R: Katharina Rothe and Jeremy Lotto. Bottom L to R: Sara Harsini and Samantha Pollard.
We are proud to announce the winners of the Outstanding Trainee Publications 2020. The papers were evaluated in three categories: Basic/Translational; Clinical/Translational; Health Services and Population Health Research. The Program Evaluation Committee reviewed 29 nominations and granted four awards.
Basic/Translational (Two prizes awarded: 1st place prize $1000, 2nd place prize $500)
1st place: Katharina Rothe, "Integrin-linked kinase mediates therapeutic resistance of quiescent CML stem cells to tyrosine kinase inhibitors", Cell Stem Cell
2nd place: Jeremy Lotto, "Single-cell transcriptomics reveals early emergence of liver parenchymal and non-parenchymal cell lineages", Cell
Clinical/Translation (One prize: $1000)
Sara Harsini, "The effects of monosodium glutamate on PSMA radiotracer uptake in men with recurrent prostate cancer: a prospective, randomized, double-blind, placebo-controlled intra-individual imaging study", Journal of Nuclear Medicine
Health Services/Population Health Research (One prize: $1000)
Samantha Pollard, "Genetic testing for hereditary cancer syndromes: patient recommendations for improved risk communication", Health Expectations
Congratulations to all the winners and thank you to everyone who submitted an application.