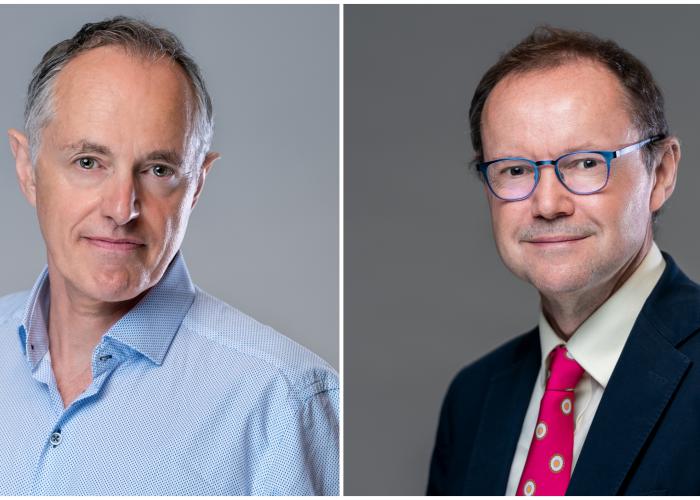 BC Cancer distinguished scientist Dr. Poul Sorensen and molecular pathologist Dr. David Huntsman have both made significant contributions to cancer care for patients in B.C. and across Canada. This year they are being named as Fellows of the Royal Society of Canada, the highest honour an academic can achieve in Canada.
"The Royal Society of Canada is extremely fortunate to welcome these exceptionally talented scholars, artists and scientists as new Members of the Society. They have made outstanding contributions to their fields and to Canada's intellectual and artistic breadth, and are making a tremendously positive impact on the world. We recognize them for all that they have done, and indeed will continue to do, to advance scholarly and public life in Canada and around the world," says RSC President Chad Gaffield.
Dr. Poul Sorensen is an internationally renowned clinician-scientist whose pioneering work uncovered numerous genetic and biological drivers of aggressive childhood cancers, many of which were subsequently directly linked to the biology of adult malignancies. He was the first to show that NTRK gene fusions are recurrent oncogenic drivers, which are now estimated to occur in 1% of human cancers, leading to the development of recently approved drugs to target these lesions.
Dr. David Huntsman has used pathology and genetic tools to redefine our understanding of ovarian and several rare cancers including hereditary stomach cancer. He proposed, developed, and promulgated the current subtype-specific and biologically informed approach to ovarian cancer research, prevention, and treatment. He has been a leader and mentor within the Canadian cancer research community. His research is highly cited and most importantly has saved lives.
The two will be honoured, along with the rest of the 2019 inductees, at the Royal Society of Canada's Celebration of Excellence and Engagement in Ottawa later this year. Read the Royal Society of Canada's full release.