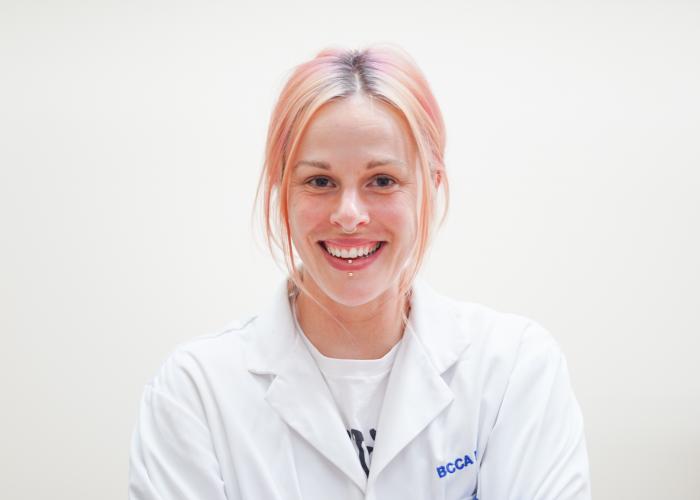 Gillian Carleton is no stranger to hard work. The BC Cancer researcher, University of Victoria student and Team Canada Olympic medalist can now include a Vanier Canada Scholarship award under their belt. The award is arguably one of the most prestigious graduate scholarship awards in Canada, offering recipients $50,000 per year for 3 years while they finish their graduate studies. Recipients must demonstrate leadership skills and a high standard of scholarly achievement in graduate studies in the social sciences and humanities, natural sciences, engineering – or in Gillian's case – health studies.
Gillian has been studying immunotherapy in the Deeley Lab at BC Cancer – Victoria. Their research is on immunotherapy, aiming to overcome metabolic suppression in tumour microenvironments within ovarian cancer cells to improve the efficacy of CAR-T therapy. To do this, Gillian is using gene-editing technology to rewire metabolic pathways and produce supercharged CAR-T cells with enhanced tumour-killing capabilities.
"It's an honour to win a Vanier Scholarship, especially for someone like myself who took a non-traditional path to academia," says Gillian. "I don't think of this work as 'just' a PhD project. The end goal is to eventually get this therapy into patients."
Gillian credits the close relationship between BC Cancer and the University of Victoria as immensely valuable to their work. "My supervisor Dr. Julian Lum is widely considered to be a leader in the field of immunometabolism. I feel incredibly lucky to be working under him at the Deeley Lab."
"Gillian's combination of academic excellence, drive and passion, and elite sports background are rare assets you find in a student," says Dr. Julian Lum, Senior Scientist at the Deeley Lab at BC Cancer – Victoria. "Their work sits at the interface of two of the most cutting-edge facets of cancer research - gene engineering and immunotherapy. It's exciting to sit back and watch Gillian's work advance knowing that the work is on the cusp of something very promising for ovarian cancer patients."
According to Gillian, ovarian cancer is especially resistant to immunotherapy and there is an urgent need for new therapies. Kudos to them for this receiving this prestigious scholarship and for their continued efforts to reduce the burden of cancer.