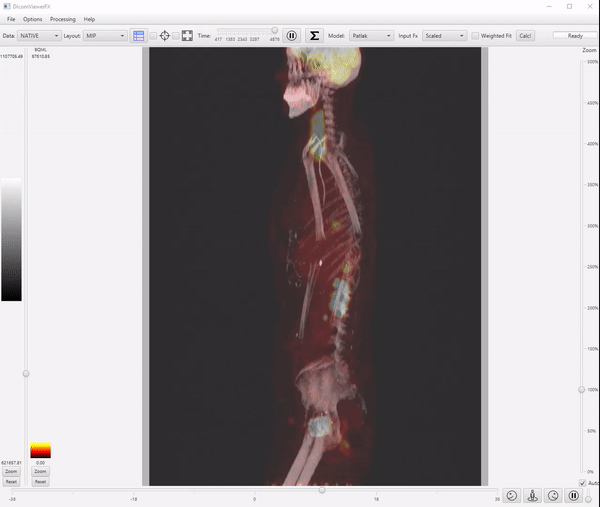 Viewer for dynamic PET studies with integrated PATLAK analysis
Download here the Imager-4D software and its user manual as developed by Jeff Leal.
Summary:
Allows the display and analysis of dynamic (multi-frame), single and multi-modality images (PET, MR, PET/CT, PET/MR).
Integrated Patlak analysis of dynamic datasets with image-based input function derivation and population input function scaling.
Reference:
Please cite the following paper if you publish results with help from our software tool:
S. P. Rowe, L. B. Solnes, Y. Yin, G. Kitchen, M. A. Lodge, N. A. Karakatsanis, A. Rahmim, M. G. Pomper, and J. P. Leal
Imager-4D: New software for viewing dynamic PET scans and extracting radiomic parameters from PET data
J. Digit. Imag., vol. 32, pp. 1071–1080, 2019.
Technical Description:
We developed a DICOM image viewer in the Java programming language. The viewer can load newer style multi-timepoint DICOM whole-body image sets as well as aggregating separately acquired whole body image series. In addition, the viewer can load any co-registered anatomical imaging (e.g. CT, MR) for fusion display and anatomical localization, employing multiple lookup tables and user control of image blending. We incorporated regions of interest which provide real-time Time Activity Curve (TAC) display of corresponding sampling statistics. For the voxel-by-voxel Patlak analysis, the ROIs are used to provide necessary input function data, either providing the entire function if imaging captures the time of injection, or used to scale an embedded population input function when only later imaging timepoints are available. Results of Patlak analysis can be displayed as image sets (K, V0, Correlation) as well as sampled via the built-in ROI toolset.
The software is in an early beta-stage of development and we expect frequent updates to the executable files as we both add features and further test its robustness. The software is freely available to interested users, though we do ask for feedback so that we can continue to enhance and increase the utility of this tool.